Commercial Building Trends  
January 10, 2023
Like many industries, architecture and design have seen huge shifts in reaction to COVID-19. As how we work changes, so must the spaces we work in. As we've returned to our offices, yesterday's buildings simply don't fit today's demands. Here are some trends we're seeing at OneStudio D+A in Reno and beyond.
MATERIAL SELECTION
It's undeniable that supply chain challenges and rising costs impact material selections. While budget is still almost always the primary concern, lead times are increasingly driving design choices. Many products are taking longer than ever to ship, are discontinued, unavailable, or come with expensive rush fees. As a direct result, we're seeing an increased focus on renovation over new buildings and localized sourcing to minimize headaches during construction, including at a product development level from major manufacturers and product vendors. We've also seen an increased focus on green and net carbon zero products, including upholstery, carpet, and even exterior decks made from recycled and reclaimed materials, giving architects, designers, and clients more options to "go green" and "stay local" while staying in budget by avoiding expensive shipping delays. 
EXAMPLE: At the new Public Safety Center, we worked with Shaw Contract to select flooring that is 100% recyclable, PVC free and Cradle to Cradle certified. This selection also means that Shaw will be able to reclaim the product at the end of its lifecycle to make into new carpet, all at no added cost to the client. 
SPACE ALLOCATION
With a growing percentage of employees working from home, companies are finding dusty desk and storage space can be put to better use. As opposed to designated space for traditional cubicles and closed-door executive suites, we're seeing an increased demand for flexibility post-pandemic. Square footage traditionally planned as permanent desk space is now commonly reallocated and designed as flexible multipurpose space, including meeting and event space, hotel style work stations, collaboration zones, and amenities like employee lounge areas.  
EXAMPLE: At the new Incline Village Ridgeline office, our team designed open collaboration zones, an employee kitchen and lounge space, as well as a flexible meeting space, complete with modular folding tables and chairs, as well as folding doors for optional privacy.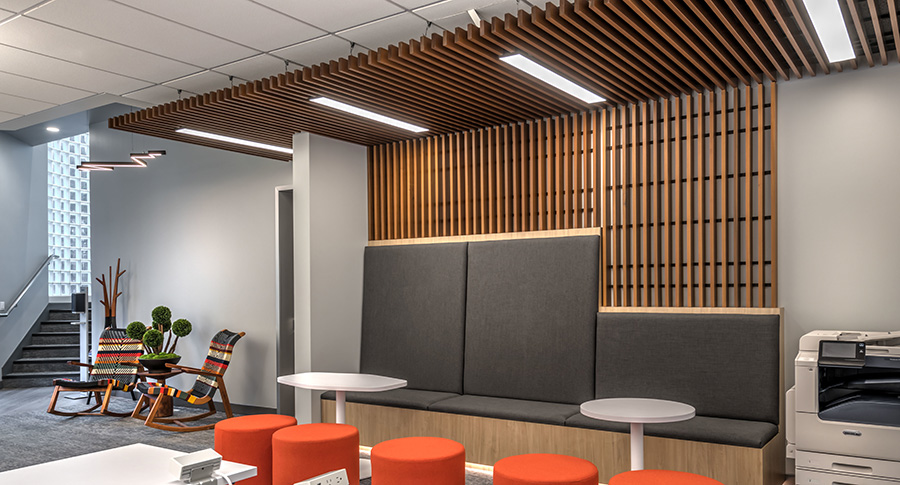 CUSTOMIZABLE WORKSPACES
Increasing focus on mental and physical health has driven demand for inclusive options that allow employees to customize their environment – from adjustable skylights, to modular conference room furniture and adjustable standing desks. While companies are more often seeking open concept design, there's still a demand for flexible privacy, including for meetings, phone calls, and work, calling for features like adjustable acoustic partitions. 
EXAMPLE: At the newly renovated Liberty Utilities office, while there are still traditional closed door suites for management and meetings, there are also easy to customize spaces and features.
BIOPHILIC DESIGN
Our collective increased cultural focus on physical and mental health is also raising the demand for "bringing the outside in" – also known as biophilic design. More than simply adding a green wall feature, biophilic design leads our choices and thinking in how we incorporate lighting, air flow, visual connections to nature like patterns and materials, and even how we move in a space. Encouraging connectivity between nature and our work spaces supports productivity and wellness, and has even been shown to decrease undesirable expenses like ongoing utility costs and employee sick days.  
COLOR PALETTE
The colors of a space effect how we feel, operate and produce. As we design office spaces, we're seeing an increased demand for neutral color palettes with pops of accent color – not dissimilar from current home design trends. Instead of traditionally drab corporate grays and blues, we're seeing color psychology show up more and more frequently from reception areas and conference room design, to interior design details like upholstery.

EXAMPLE: At the Renown Senior Care facility in Reno pictured below, you can see a warm, neutral color palette paired with bright accents. This growing trend is based on research on how color in our spaces affect mood,  performance, and even employee health.
GRAPHICS & BRANDING
As traditional office footprints shrink, and employee satisfaction and retention become paramount with labor shortages, companies are increasingly excited about bringing unique branding opportunities in their offices to increase daily work satisfaction and reflect company culture. As product innovation has evolved, new options allow creativity for custom graphics and branded elements, like glass partition walls, custom printed acoustic panels, and laser cut metal features, all adding to truly unique office environments that reflect a company's brand to employees and visitors alike. 
EXAMPLE:  The colors of the University of Nevada Reno, locally known as UNR, are blue and silver. In the example below from a teaching clinic in Reno, you can see how our team kept with the existing brand while elevating the space with large custom graphics and custom-upholstered furniture. 
HOW WE'RE CHANGING WITH THE TIMES AT ONESTUDIO
With so much change in such a short time, at OneStudio D+A, we've diversified our leadership and brought on new partners to inform our process, decisions and growth. By bringing on new team members with diverse skillsets, like combined Project Management and Architect experience, or Interior Design and Architecture, we can better integrate design and building. 
Also, we recently rebranded to reflect our changing approach. After more than 20 years as "MBA", we're now "OneStudio D+A". "D+A" is a reference to our process getting to the "DNA" of each company we work with, which allows us to highlight the culture, values, needs, and goals of a team on each individual project. (Click here to read more about our recent name and branding change.)
Ready to start your next project?
To get in touch with us, contact us at 775 336-2883, or fill out the form below. We will be happy to help you bring your vision to life!